Why should I consign?
Raising a child is expensive and they grow very quickly out of everything, leaving their dressers, closets and your home cluttered! With consigning you can clean out items you no longer need and put money back into your piggy bank all at the same time.
With many shoppers at our event you will be able to sell many items. Now is a great time to clean out your stuffed closets of items your children no longer need and make money quickly and easily. Our average consignor makes $420 at a sale.
OPENS

August 11th, 9:00am

EVENT DATE
Thursday, September 14 – Sunday, September 17
Treasure Banquet Hall
317 N Euclid Ave.

Ontario CA 91762
FREE PARKING IN BACK OF BUILDING
Consignor Registration Deadline
Friday September 8th @ 11:59pm
As a consignor you will:
Earn 60 – 75% of your total sales click here to learn how to earn a higher percentage
Shop at the Private Consignor Sale before we open to the public
Shop at the Private Consignor Discount Pre-sale

Be able to track your sales online at home
Sell your items quickly and easily without having to meet up with strangers
Receive a check through the mail shortly after the sale is complete
Steps for becoming a consignor
Register, select a drop off appointment and, if desired, select a work shift
Collect the items you would like to sell
Input your items into the system and print barcode labels
Prep and tag your items
Drop off your items
Pick up or donate your unsold items
The minimum number of items to consign is 25 and the maximum number of items to consign is 350 per registration/consignor number. There is a nonrefundable $18.00 registration fee that will help with overhead costs such as rent, advertisement and displays.
***If you are new to consigning, please read all steps prior to registering.***
Please read the list carefully so you do not prepare unacceptable items.
It is your responsibility to check your items for recalls at : Safe Kids
Consignors are also responsible for assembling their large items at drop off.
ACCEPTABLE ITEMS
Clothing
Girls and boys clothing sizes premie to 18
There is a limit of 25 items per gender for clothing sized premie to 12 months. An outfit or grouping (of the same size) is considered one item. Clothing must be current and free of stains, tears or noticeable worn areas. All clothing must be clean and neatly presented on a hanger. We reserve the right to decline unsuitable items.
Maternity Clothes, etc.
Maternity clothing that is current and also free of stains, tears, etc. is acceptable. There is a 10 item limit and all clothing must be clean and neatly presented on a hanger.
Nursing aids
Baby and children's shoes
Girls sizes premie to kids 7
Boys sized premie to kids 7
Shoes must be in excellent condition and free of scuffs or visible wear.
Baby and children's furniture
Cribs and toddler beds (must be assembled), headboards, dressers, changing tables, desks, children's tables and chairs, bookcases, toy boxes, rocking chairs and gliders, and all other children's or nursery type furniture.
Room Décor
Children's themed pictures, mobiles, decorations, bedding, etc..
All blankets and bedding must be on hangers and large comforter sets grouped together in a large sealed bag. Only breathable crib bumpers are accepted. BLANKETS MUST BE HUNG ON A HANGER.
Baby gear
Bassinets, nursing beds, high chairs, swings, play yards, strollers, baby gates, slings and carriers, bouncy seats, diaper bags, backpack carriers, bath tubs and seats (bath seat manufactured before 2011 will not be accepted), play mats, seats, cart covers, etc.  Car seats must be new or in excellent condition. Consignor must be the only owner and verify no accidents, as well as have a manufacter date expiration with 2 years or more written on the seat.  All items must have working batteries and will be tested at drop off.
Toys and sports equipment
Dolls, action figures, blocks, complete puzzles, playhouses, train sets, Legos, etc.. All items must work and those that require batteries must be installed and operating.
Bikes, tricycles, scooters, skates, and all other children's sports equipment. All must be in working order and free of damage.
 Music, Books, Electronics
cmputer games in original packaging, learning toys and readers, and books. There is a maximum of 30 books per consignor.
Accessories
Hats, backpacks, purses, socks, tights, hair accessories, etc.
Women's Clothes
Only women's designer handbags, shoes, dresses, blouses and athleisure clothing will be accepted. There is a limit of 10 dresses and 10 blouses per consignor.
UNACCEPTABLE ITEMS
Any recalled item. You are responsible to check the Safe Kids Website for recalls
Clothing that is outdated, excessively worn, stained, or torn. *CONSIGNORS WILL HAVE $1 DEDUCTED FROM THEIR CONSIGNOR CHECK FOR STAINED ITEMS THAT ARE REMOVED FROM THE SALES FLOOR.
Bathtubs sold prior to October 2017
Adult sized clothing, shoes or accessories unless maternity or women's clothes as described above
Clothing or shoes not prepared or hung properly
Used undergarments unless maternity or nursing bras
Used pacifiers, or stained potty seats or diaper pails
Baby food or food of any type (only unexpired formula will be accepted)
Broken and nonworking toys
Stuffed animals that are not Disney or a known movie character
Fast food toys, books or puzzles
VHS, CD'S AND DVD'S
Cribs manufactured prior to June 2011
Any items that are not clean or appear damaged
Maternity books
All items must be clean, free of odor and in working order. If you take the extra time to clean your items they will sell faster and for a higher price. We will inspect all items and reserve the right to refuse a subpar item. We strive to provide high quality items and require your help to do so.
Supply list
White Cardstock only for tags. Labels created on regular printer paper will not be accepted
Tagging gun
Safety pins in various sizes
Clear packing tape
Scissors (picture of supplies)
Zip ties in various sizes
Clear plastic ziplock bags
Unique ink stamp (to help you at pick ups)
Wire hangers
Hole punch
Rubber bands
Paper cutter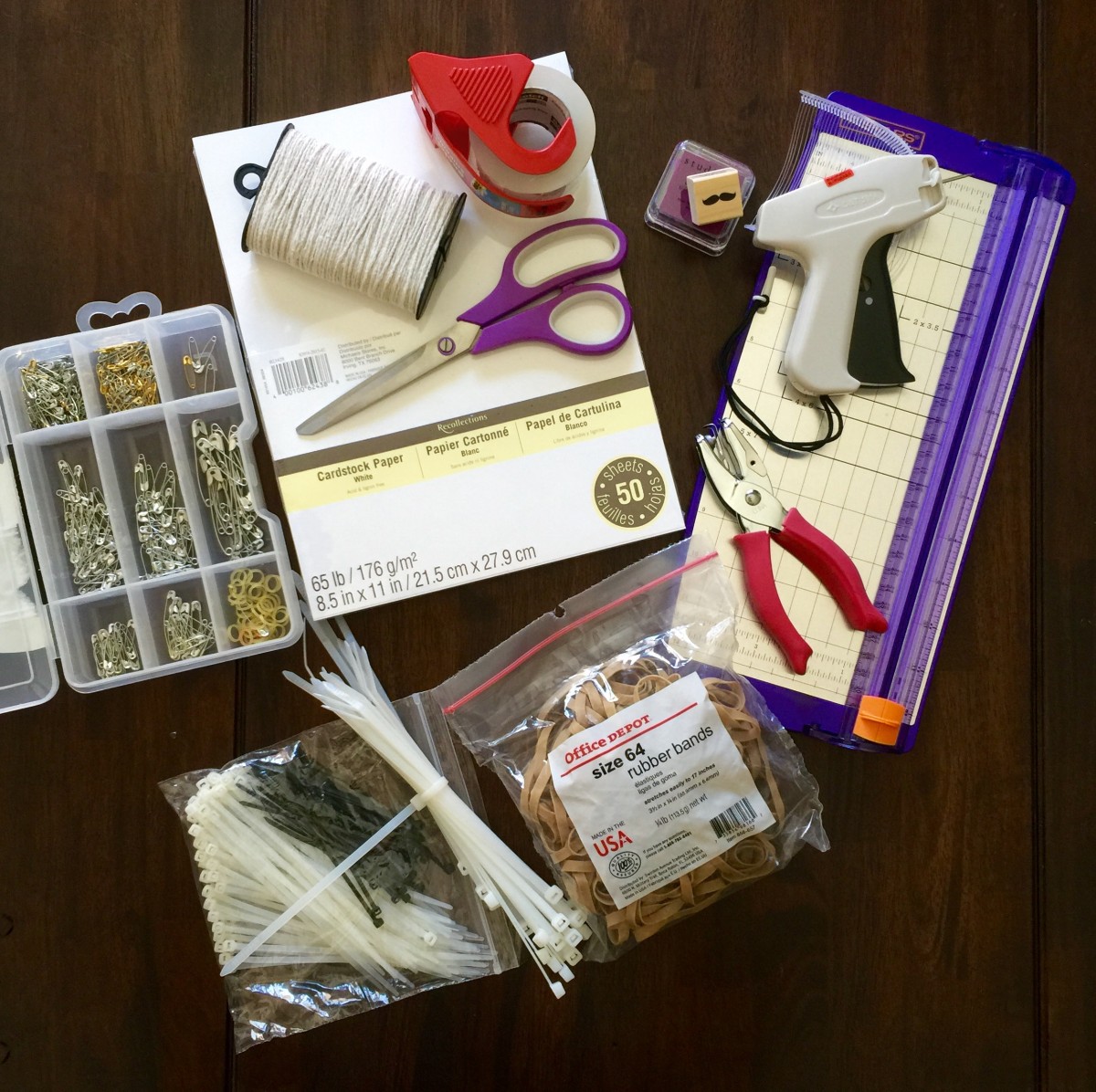 Clothing
Please use wire hangers because they require less space and are easier to safetypin clothing to. Hangers must face in the question mark position. We recommend using a tagging gun to attach the label to the clothing, however a safety pin may be used as well. Attach the printed barcode label in the seam on the left side of the clothing either under the armpit or at the waist for pants. If you use a safety pin attached the label on the left breast pocket area or on the left pant pocket. Make sure the label is visible. SEE PICTURES AND DO NOT USE STRAIGHT PINS. For added security and to help keep items together, safety pin each item to the hanger. If there are matching accessories, place them in a ziplock bag and secure with a safety pin or zip tie.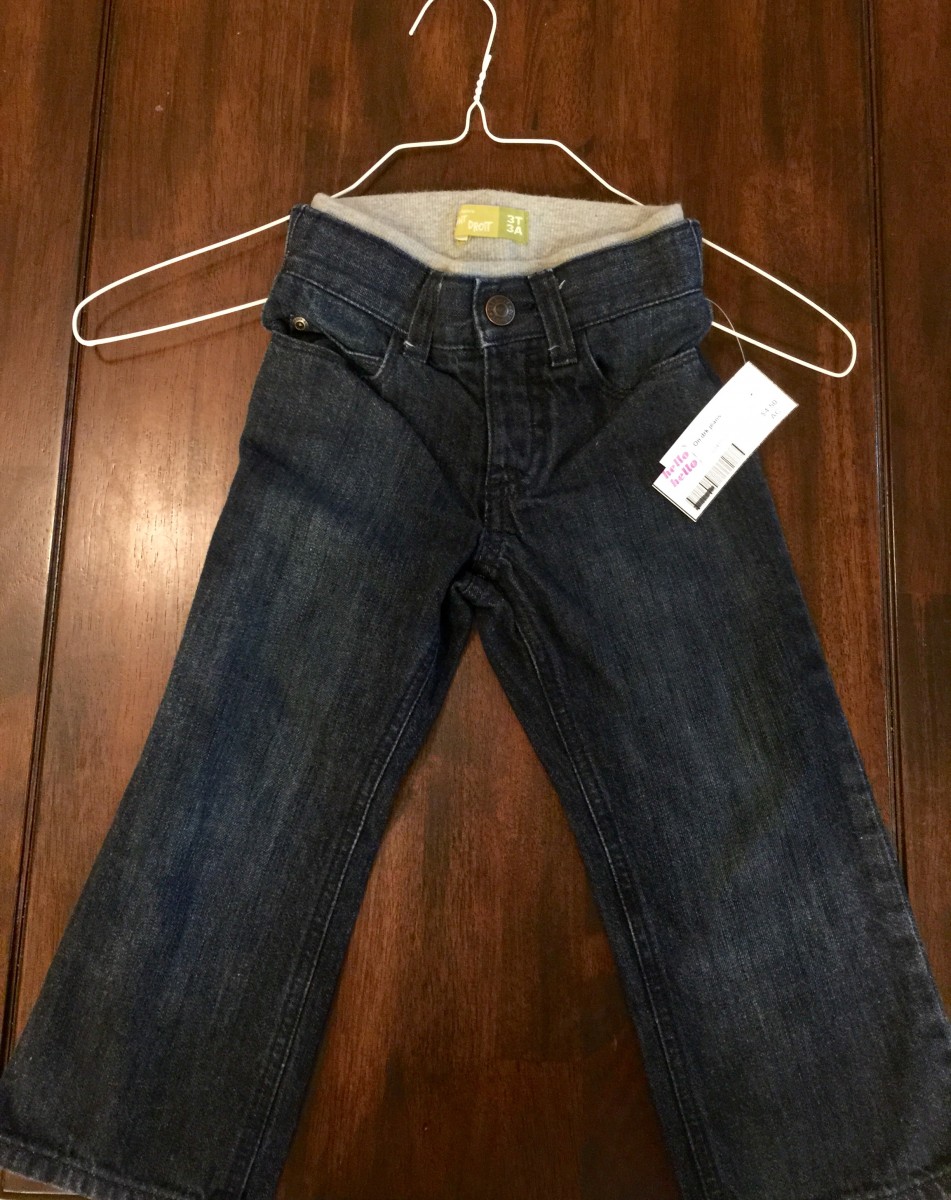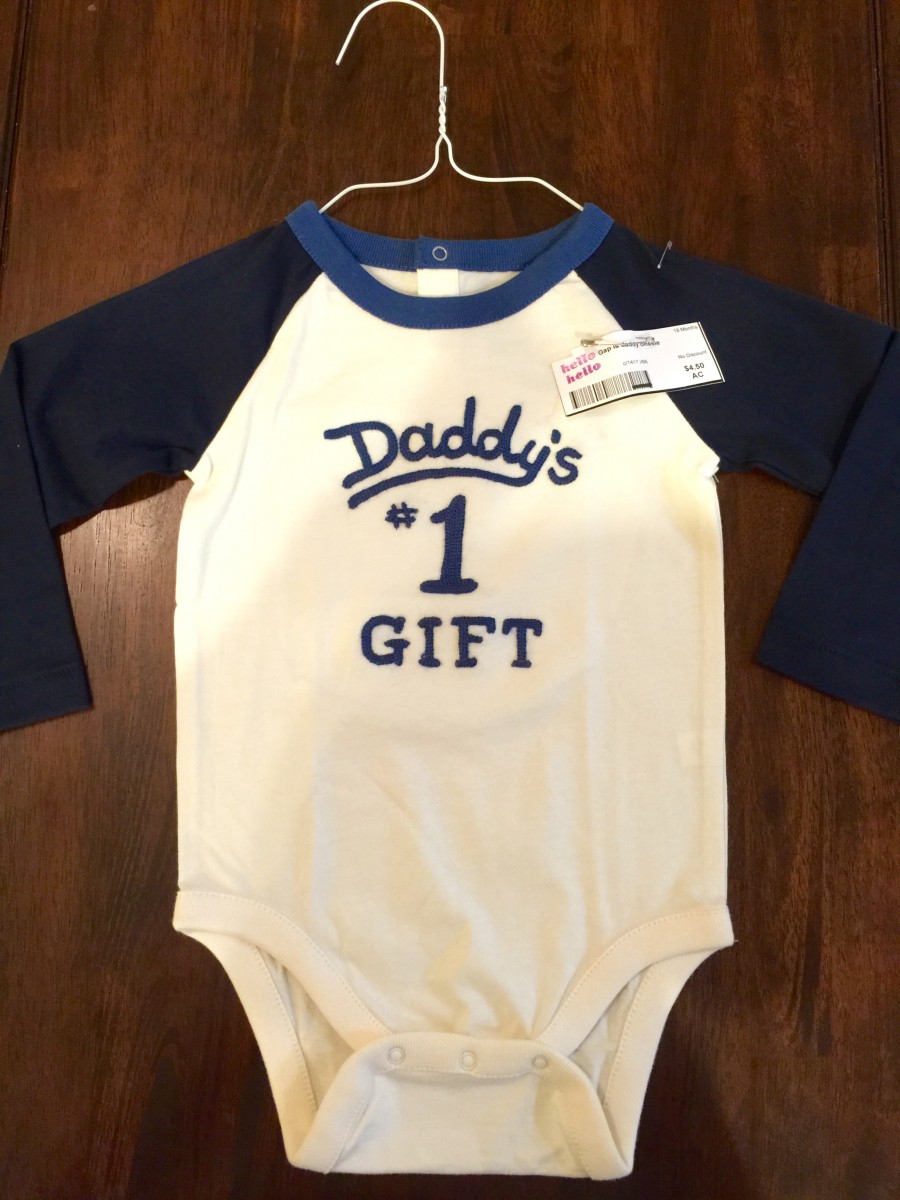 Shoes
The best way to secure shoes together is to zip tie them. If the shoes are small and are not capable of being zip tied, place them in a clear plastic bag and secure the bag with packing tape. Zip tie or safety pin the barcode label to the shoes or if a bag is used tape the label to the outside of the bag. Be sure not to place tape over the barcode or it will not scan at the register.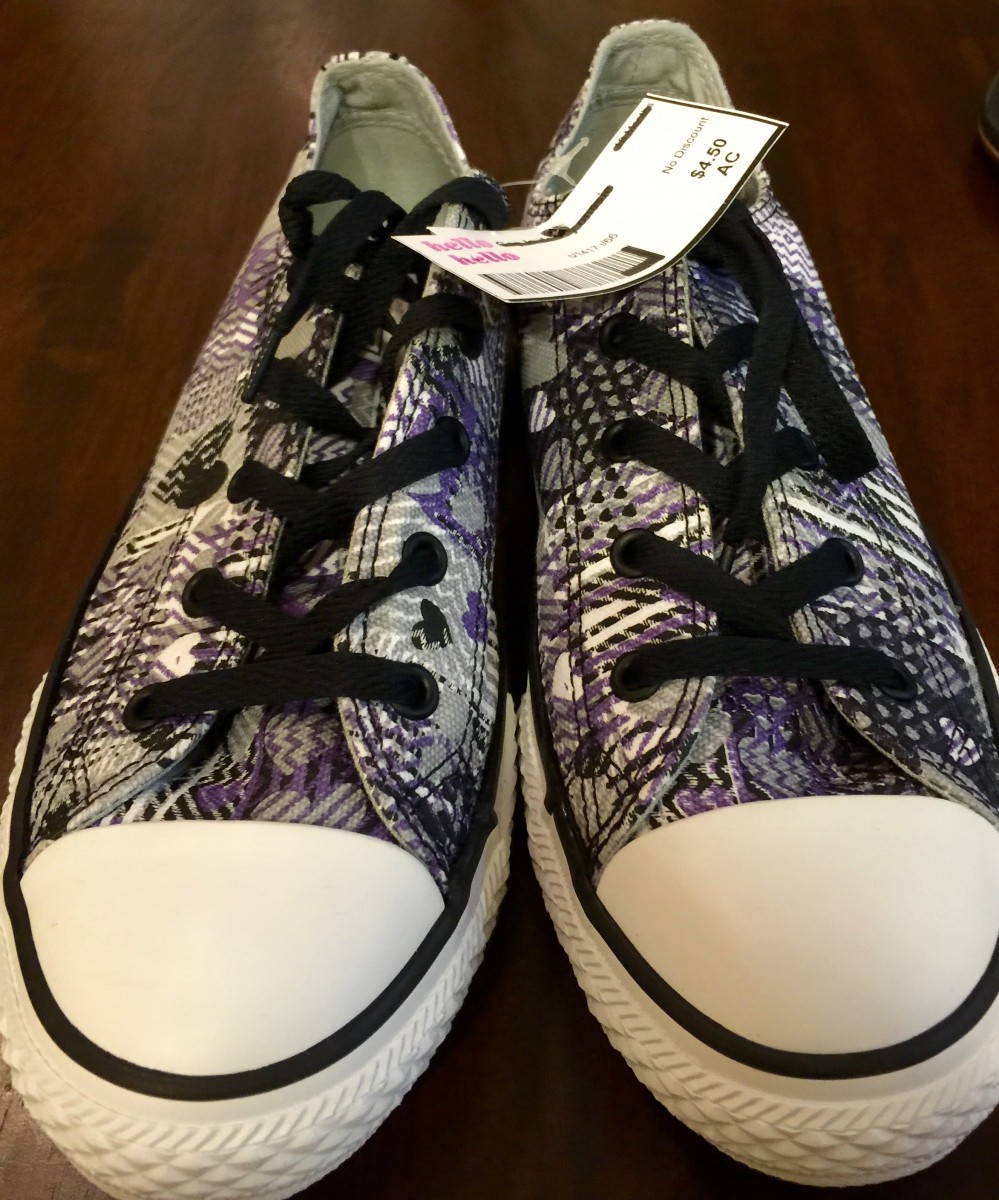 Larger items
Large items must be assembled during drop-off. Secure the label with packing tape. Do not place the tape over the barcode.
Games and Books
Computer games are required to be in their original cases. Secure the label to the back with packing tape. If you are selling a bundle, either secure with packing tape of place inside of a ziplock bag and tape the bag closed. Books are to be free of torn pages, writing or missing pages. Tape the barcode label to the back of the book or seal multiple books inside of clear ziplock bags. Please leave computer games and games unsealed until after inspection.
Etc.
Keep all items together with ziplock bags. Seal all bags with packing tape and tape the barcode label to the outside of the package. If a zip tie cannot be used, use the clear packing tape to adhere your label. Tags can come off and securing your items and labels will pay off.
ENTERING ITEMS AND PRINTING BARCODE LABELS
With the help of My Sale Manager.net we are able to use a barcode label system at the sale. These barcodes are able to help keep track of inventory and allow you to see what items have sold each day. Once you have registered you will be able to log in and enter your items into your inventory log.
While not necessary, it is easier if you sort your items into categories prior to entering the system. Sort clothing by gender and size and sort toys, equipment, shoes, etc. The system is user friendly and will prompt you through the process. It is also beneficial to enter your items several at a time over the course of a few days.
Setting a price
There is a $4.00 minimum price and we use 50 cent increments for the sale. A good guideline is to ask a quarter to a third of the original price. Some more popular items may sell for 50% of their original price. Keep in mind there will be duplicate items from other consignors and those that appear cleaner will sell faster. It can be helpful to state the manufacturers suggested (MSRP) retail price in the description. Click here for a pricing guideline from ConsignmentMommies.com
Description lines
Being descriptive will help your items sell and will aid in finding an item should the tag come detached.
Discounted day and items
The last day of the sale most of the items will be discounted 50%. There is a box you can check if you would like to sell your item at a discounted price. Should you check the donate box your item will be automatically discounted if it does not sell. We will be working with Coachella Valley Foster Kids.
Printing your barcode labels
Use only white cardstock paper to print the barcode labels. Labels printed on regular printer paper will be declined. Once all of your items are entered you may print your labels. Six labels will print to a page. If you have not marked the item to be discounted, use a unique stamp to help identify your label. This will aid in sorting items at the end of the sale.
You will need to turn off your popup blocker to print your labels.
Tagging Deadline: Saturday Sept 9 @ 11:59 pm
DROP OFF APPOINTMENT
It would be best to select your drop off appointment and work shift(s) as soon as they are posted. This will help you obtain a time that is the most convenient for you. Consignor and work shifts fill up quickly! Drop offs are:
Monday, Sept 11- Wed Sept 13 or by appointment once the sale begins
Sort all clothing by gender and size
All items will be inspected and deemed either acceptable or possibly refused
Clothing must be stain free and hung on wire hangers
Working batteries are required for electronics
All parts and pieces are required
All items must be CLEAN
After inspection you will be asked to place your items on the sale floor
*VIP Drop Off is available and will allow you to drop your items curbside and go. IF ALL OF YOUR ITEMS ARE MARKED DISCOUNT AND DONATE, THIS SERVICE IS FREE TO YOU. Please email info@thislittlepiggyconsignment.com for details.
PICK UP UNSOLD ITEMS*
If you did not select donate all items you will be required to pick up your unsold items on:
Sunday, Sept 17 2023 between 4:00pm and 7:00pm

If you are unable to pick up your unsold items you may send a family member or friend to do so for you. Please be certain they have your consignor number. Unsold items left after 8:00pm will be donated, unless previous arrangements have been made.
*You are responsible for sorting and collecting your unsold items at the end of the sale.
*VIP Pick Up is available. For a small fee, we will sort your items at the end of the sale and have them ready for you to pick up. Please email info@thislittlepiggyconsignment.com for details.